Our Accommodations
By The Sea Guests B&B gives you an amazing bed and breakfast experience at one of the most gorgeous locations on the East Coast. Our Cape Cod beachfront bed and breakfast puts you right on the edge of the ocean so you can wake up every morning to the coastal sunrise and go to bed at night to the sound of the waves. Our guest rooms provide the luxury and comfort of a five-star getaway while giving you the coziness and familiarity of a home-away-from-home. When you wake up, you and your loved ones can enjoy breakfast on the enclosed porch looking over the ocean.  Breakfast starts May 29th as allowed by the state.
Vacation Homes
Enjoy our lovely private vacation home rentals with your loved ones, families, and friends. We have two houses to choose from: The Beach House and Yellowtail House.
Both houses are the perfect size to celebrate special occasions, such as weddings, bridal showers, bachelor or bachelorette parties, family reunions, birthdays, or just a quiet retreat.  They comfortably sleep 10-12 people.
Both homes also have special access to By the Sea Guests' amenities, such as the private white sandy beach lined with beach lounge chairs and umbrellas, beach games, veranda overlooking the beach on the Nantucket Sound, WiFi, lobby and concierge services, events, and more. Daily breakfast can be added in for an additional charge.
Beach House
A beautiful, beachy cottage-style home with partial ocean views, this 5-bedroom house is just steps away from the inn's private beach and veranda. It sleeps 10 comfortably with one queen, one double, one bunk bed, and four twin beds.
The first floor offers an open concept living space with a full living room, flat screen TV, fireplace, dining room, and fully equipped modern kitchen with granite countertops, appliances, and kitchenware. The open space is ideal for family life and entertaining! Two parking spaces are available for the house.
Yellowtail House
The Yellowtail House is also a modern open-concept layout, great for families, celebrations, and entertainment. Its colorful touches create a bright, cheery, and bohemian vibe that just radiates positivity and happiness.  In fact, the house was named after the Yellowtail fish because of its beautiful yellow exterior, which you'll find tapers into part of the interior as well. The house sleeps 12 people comfortably.
The first floor offers an open concept living space with a full living room, flat screen TV, indoor porch with airy windows and seating, dining table, and fully equipped modern kitchen with granite countertops, appliances, and kitchenware. The house has its own private driveway and can accommodate 4-6 parking spaces.
Located one block away from the main inn, the house is known for its serene privacy. It also has a private backyard with outdoor seating, dining table, and gas grill. making a perfect barbeques and hangout destination. It is a 2-minute walk down the road to the main inn. Please note that if you decide to drive to the inn for the day, only one parking spot is available, as the inn has very limited parking for guests.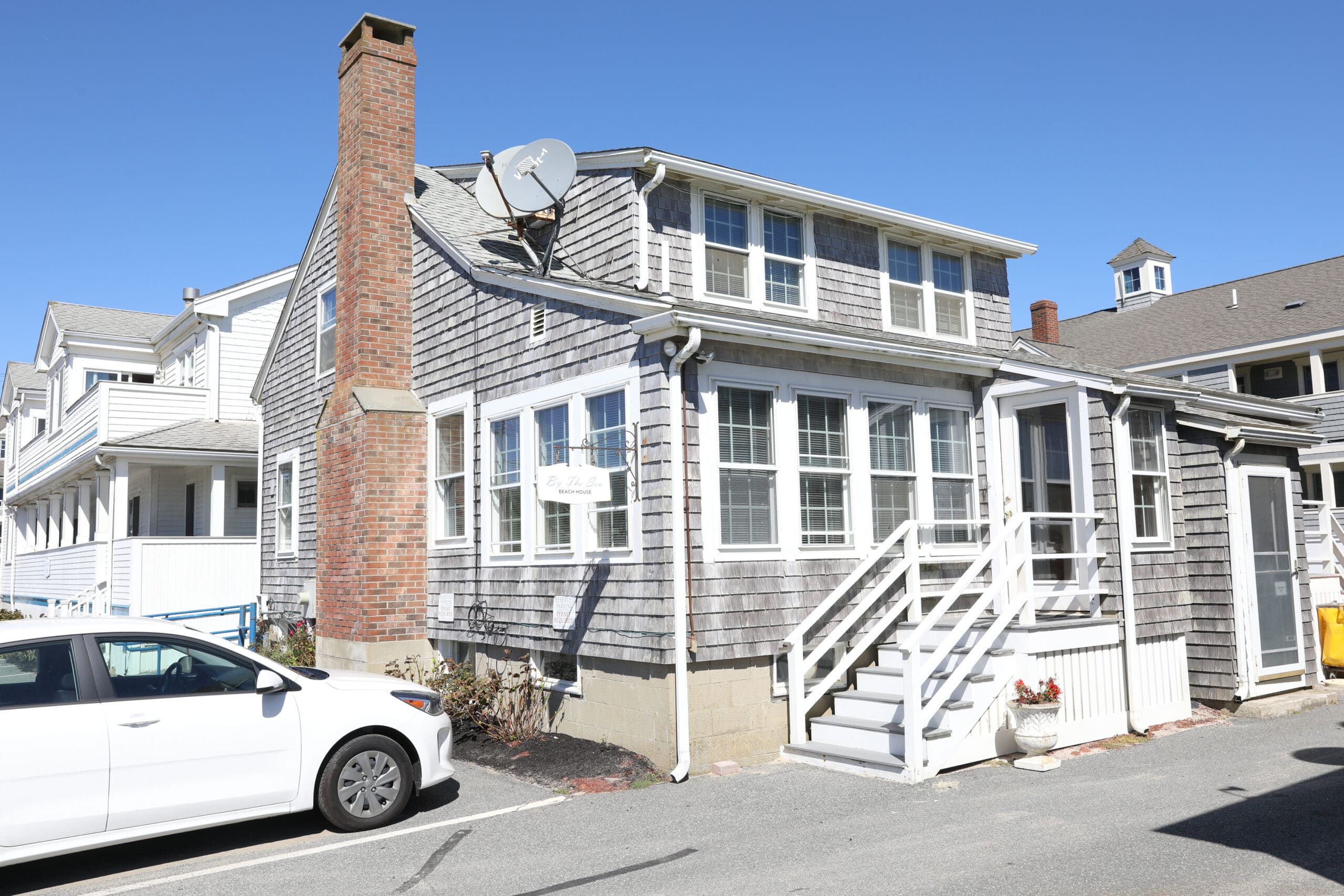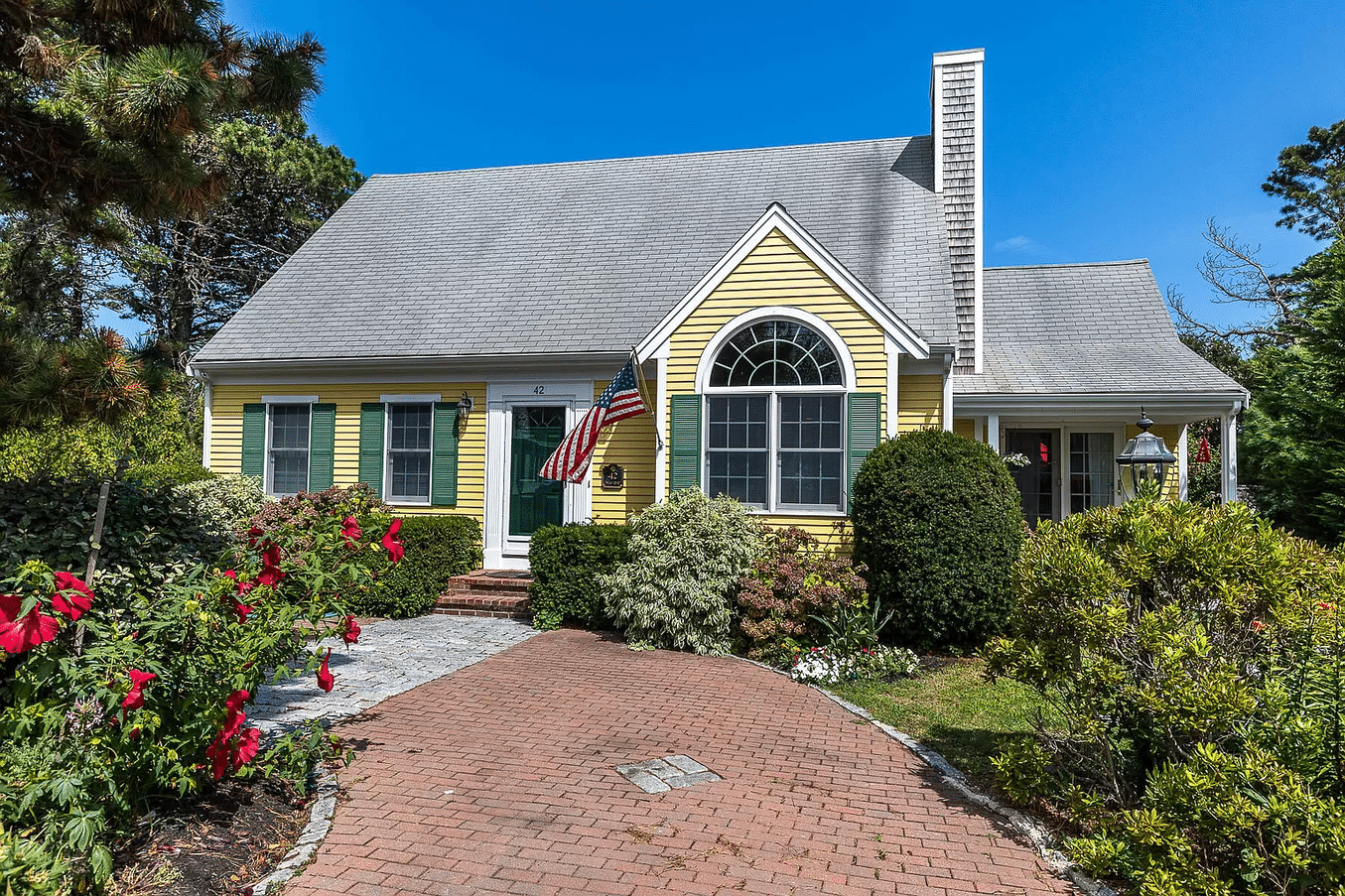 More
Info

Outside Patio

Gas Grill

Full Breakfast (Chef's Choice)

Private Beach
Beachfront Weddings & Events
Have your beach wedding, special occasion, or event on our private beach, enclosed veranda with attached outdoor space, overlooking the beach, or private vacation home.
Or have the peace of mind in knowing your wedding guests have a quiet and safe place to stay. We have a total of three inns, which are all within a one block radius in Dennis Port, MA, two of which are both beachfront and next door to each other. 46 total accommodations span the three inns and consist of basic rooms, suites, and vacation homes.
Contact us for more details
Around the Area
Whether you want to explore the entire Cape during a vacation full of fun activities or you are looking for a quiet and relaxing retreat on the beach, you'll find the excitement or the serenity you need at our Cape Cod beachfront inn. Bring your swimsuit and beach towel right out the door to our private beach on breathtaking Nantucket Sound for fun in the sun, or head out to any of the nearby restaurants, watercraft rental services, lighthouses and more for an exciting evening.