About The Inn
By the Sea Guests has it all for any family, occasion, wedding, or event.  The inn offers a bed & breakfast building with B&B guest rooms with one or two beds, apartment-styled one or two bedroom suites, and vacation homes, perfect for family reunions, special occasions, or wedding parties.
Located in Dennis Port, MA on Cape Cod, By the Sea's property is beachfront with the largest white-sanded beach on the strip.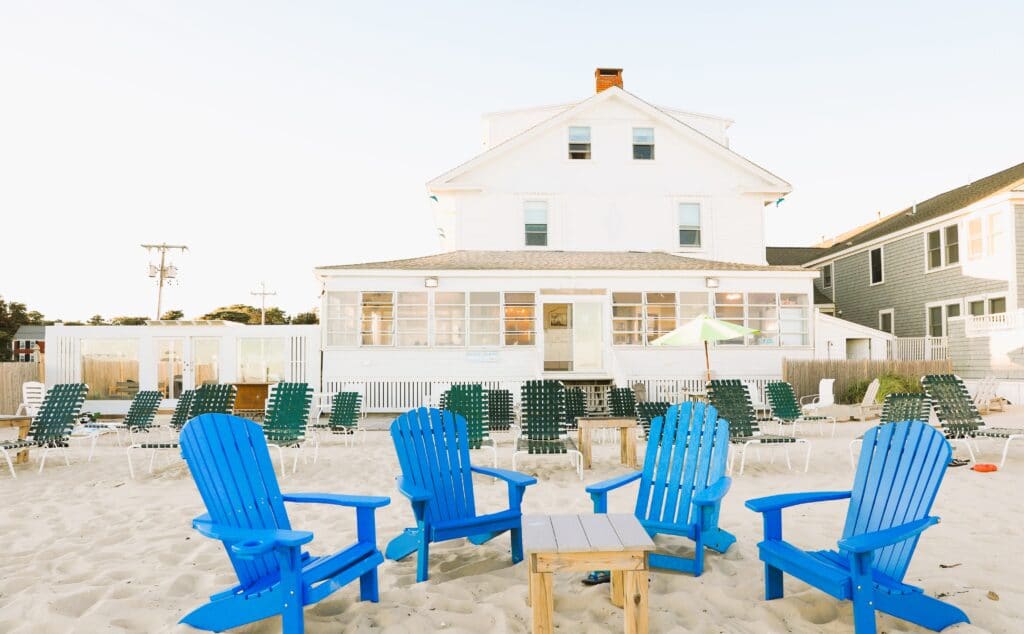 A Strong Family History
In the early 1900s, the B&B portion of the inn was slid on ice over the Nantucket Sound, where it was used for sea captains and maritimers to lodge. There was an unfortunate fire, and was thus on the market for a very competitive price. A widow from Greece was looking for a business to support her family, when she stumbled across the old lodge and purchased it in 1964.  The inn stayed in her family for 50 years until it was passed on to the Narbonne family, a native family of Cape Cod, in 2019.
Together, parents, children, and future generations come to manage the operations of the inn. The family also own the Seashell Motel next door and An English Garden Bed & Breakfast down the road. The doors of the inn welcome all guests from both close and afar. The Narbonnes have plenty of hospitality industry experience and know the area in and out. Although many updates and improvements are made each year, its original structure, authenticity, and historical New England charm are still intact today, one of the many reasons for why guests return each year.
Cape Cod
Part of New England, Cape Cod holds a historical charm. A maritime economy, the Cape is a hidden jewel that many tourists travel to each year for its wonderous beaches, clam chowder, seafood, sunsets, restaurants, and family adventures.
Breakfast
Patrons staying in the bed and breakfast portion of the inn will experience our breakfast on our lovely enclosed veranda over-looking our beach during peak season from May through Columbus Day. We begin your day with coffee, tea, and a full, hot breakfast that is Chef's Choice. Each meal is unique, using the freshest seasonal ingredients.
Suite patrons are able to prepare their own meals in each suite's fully equipped kitchen and dine on their own private balcony overlooking the ocean. Suite and home rentals can add daily breakfast for an extra charge during peak-season May through Columbus Day.
Breakfast and coffee/tea are served daily during peak-season May-October from 8:00 AM to 10:00 AM.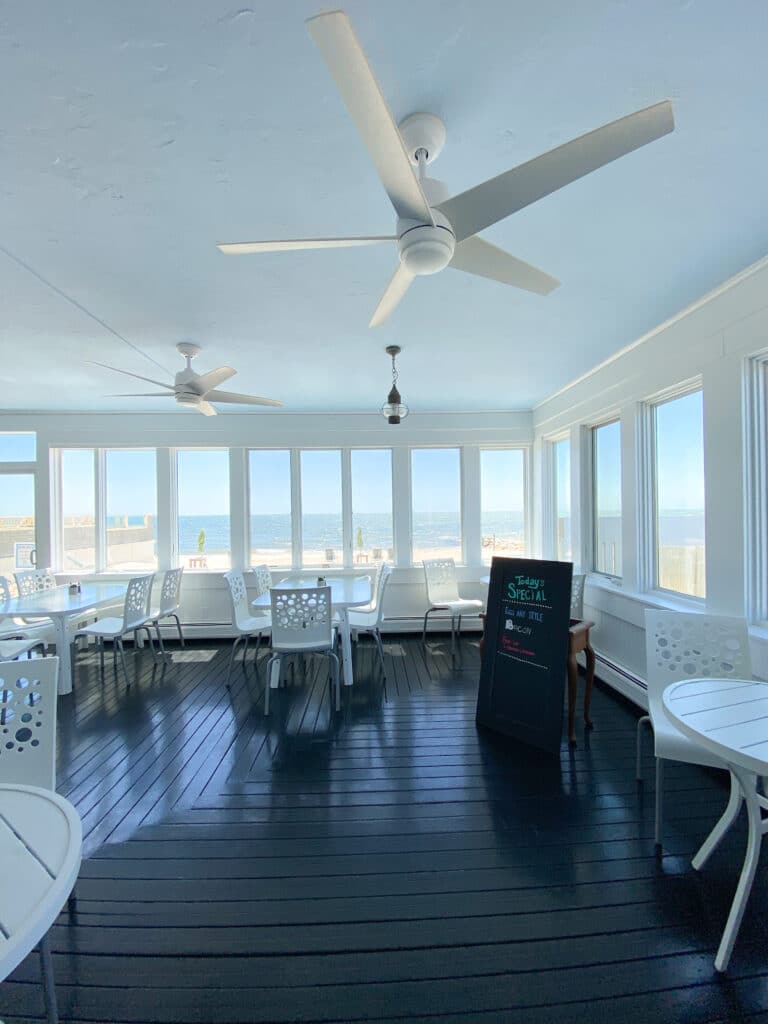 Beach Essentials
Beach lounge chairs, towels, umbrellas, and beach toys are complimentary to all guests. We ask that you hang on to towels to air dry and offer one towel per guest. Beach games are available for all guests.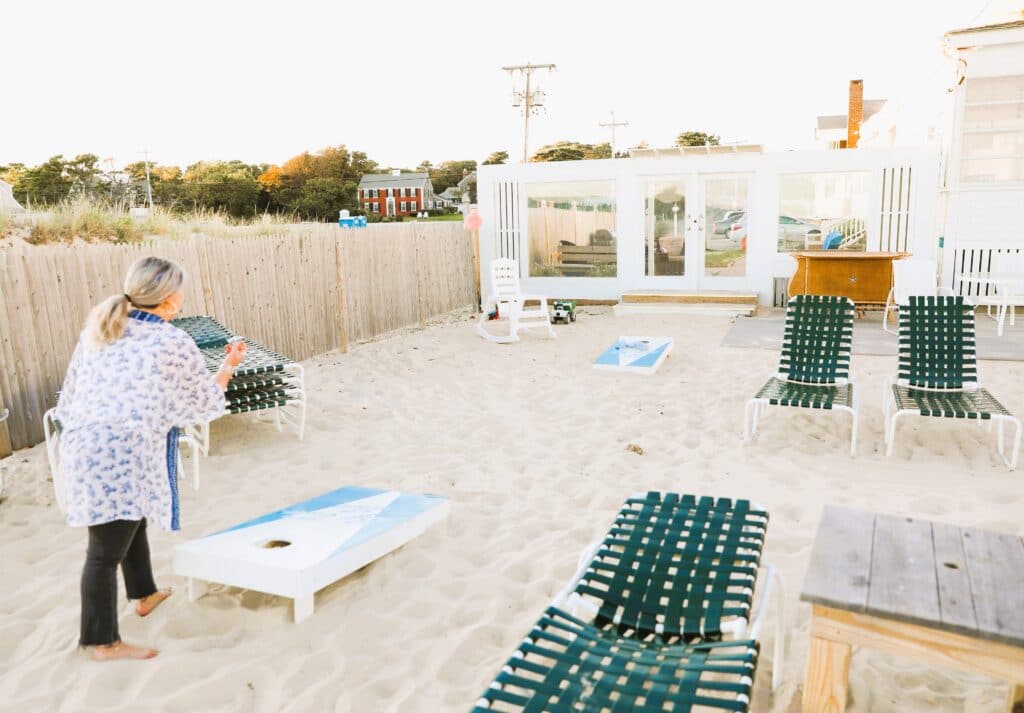 Beach Yoga
Yoga classes on the beach are offered to all guests every Saturday 8-9 AM EST. Equipment is provided.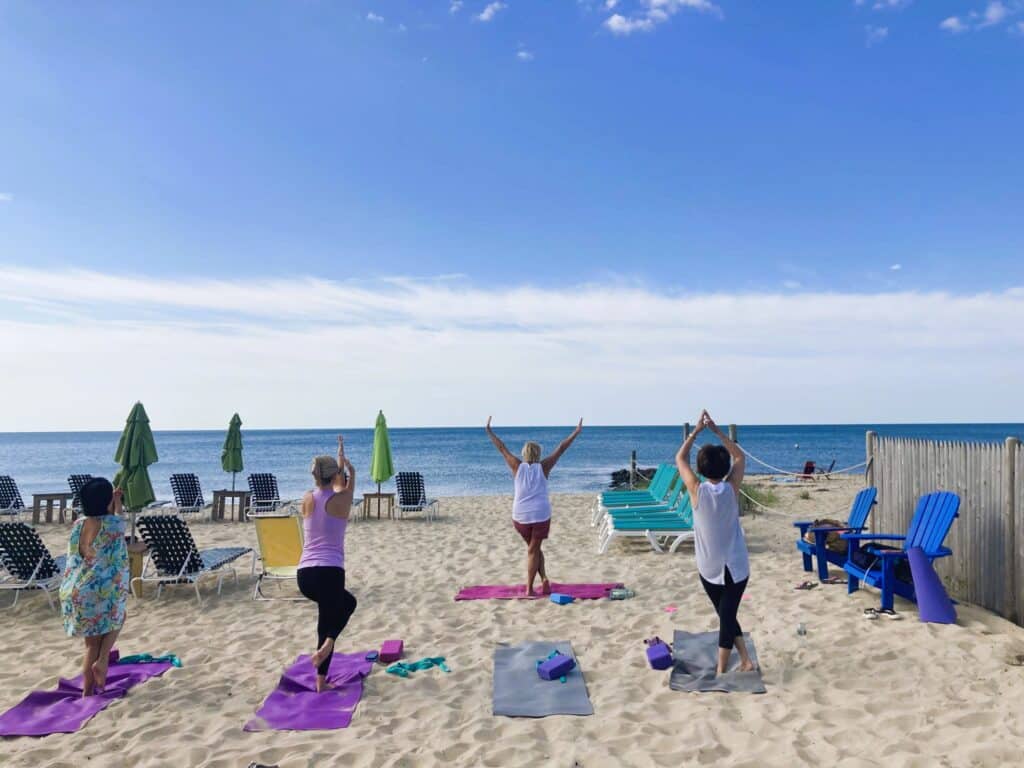 Room Amenities
All rooms, suites, and houses have at least one private full bathroom with or without a bathtub, and cable TV. Bath essentials, such as soap, shampoo, conditioner, and bath wash are provided.
All rooms in the bed & breakfast have a mini fridge.
All suites and houses have full kitchens, living rooms, dining areas, and many have a private balcony or deck with furniture for seating.
Ocean Views
As By the Sea Guests is beachfront, it's no surprise that all of our rooms either have an oceanfront room, overlooking the beach directly, partial ocean views with side views of the ocean, or no ocean view.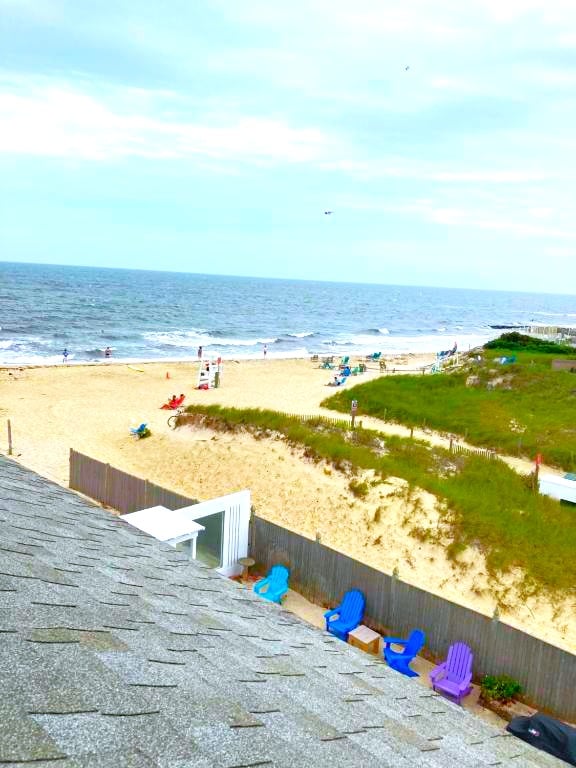 Check-In/Checkout
Although the check-in and checkout process are contingent to update each season, check-in is at 4 PM and checkout is at 11 AM. Houses checkout at 10 AM.
Check-in and checkout are hybrid, meaning you can choose whether you want to check-in contactless & express or via a traditional check-in with the front desk. Further instructions are provided in your confirmation email. We do not provide early check-in or late checkout so please plan accordingly, especially wedding guests. You are more than welcome to arrive early or depart late and use our guest amenities, such as the beach but please note we do not have the facilities for luggage storage, refrigeration, or showers.
Concierge
Our front desk will be happy to accommodate you with any concierge request, whether you're looking for a nearby restaurant, bar, things to do, or nearby sites to explore, our staff will be available to help. Please note, the front desk is only open during business hours, which fluctuate seasonally. We have a concierge print out that is located in the lobby and also send all our guests an electronic version in the reservation confirmation email.
Parking
Parking is free but limited, so please plan accordingly in advance. One parking spot is allowed per reservation. The private Beach House accommodates two vehicles and the Yellowtail House accommodates up to four vehicles.
WiFi
WiFi is complimentary to all guests and available in all rooms.
Housekeeping
All rooms are cleaned thoroughly in-between stays after checkout. Maid service can be provided during the duration of your stay for rooms and suites only. Special requests are available, such as irons/iron boards, hair dryers, and extra towels. Cots, cribs, and play packs can be added on based on availability.
Pet Policy
The Yellowtail House is our only pet-friendly accommodation with a $100 pet fee per week. If it's fewer than 7 days, it's $100 flat fee.
One of our sister hotels, Seashell Motel, has more pet-friendly accommodations available and we can take reservations for Seashell as well.
Non-Smoking
All rooms and guest spaces are non-smoking. We have one designated area on-site near the parking lot.
Night Minimums:
Guest rooms and suites have a 2 night minimum.
Houses have either a 3 night or 7 night minimum depending on the house and season
We will rarely allow 1 night stays. It is the hotel's discretion.
Deposit Policy
We require a 40% deposit upfront to hold a room.
If it's a 1 night stay, we charge the entire night's stay upfront as the deposit.
Cancellation Policy
Guest rooms:
If the reservation is cancelled 14 days or more before arrival, the deposit is refunded, less a $125 cancellation fee.
If the reservation is cancelled 14 days or less before arrival, the deposit is non-refundable.
Suites and Houses:
If the reservation is cancelled 30 days or more before arrival, the deposit is refunded, less a $125 cancellation fee.
If the reservation is cancelled 30 days or less before arrival, the deposit is non-refundable.
*Please note:
We highly encourage the purchase of third-party travel insurance to cover unforeseen emergencies or illness, including COVID-19.
Third party websites have their own deposit and cancellation policies.
No Show Policy:
The total balance will be charged for no show reservations.